Now that summer is over (lies!), I'm finally ready to reflect on my "summer reading." By far the most fun part of my summer reading was the Crazy Rich Asians trilogy by Kevin Kwan. And it was capped off with the release of the Crazy Rich Asians film, which dropped last month! Can you say: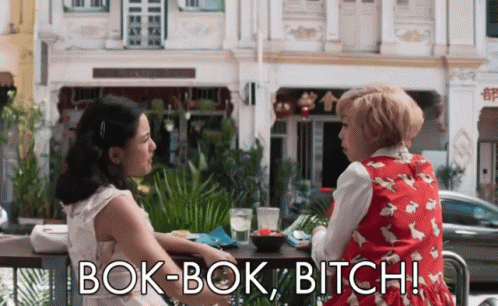 So, if you refer back to my review of the first novel in the trilogy, Crazy Rich Asians, you'll know that I had a ball reading that book. The second and third installments in this trilogy, China Rich Girlfriend and Rich People Problems were no less fun, though they were most certainly more driven by the demands of editors and a growing fan-base.
In the second installment, we see Nick and Rachel embark on their married life with a bang…or more like a helicopter landing in the middle of their ceremony, but I digress. The end of Crazy Rich Asians dropped the bombshell on readers (and Rachel) that her father was alive, and was not who she thought he was. China Rich Girlfriend takes us into the world of Rachel's actual father…the China Rich world. While some elements of the storyline feel contrived to say the least, the second installment of this trilogy definitely delivers all the LOLs, WTFs, and HELL NAWs that salacious summer reading should.
The final installment of the trilogy, Rich People Problems, was more enjoyable for me than the second. This is mainly because we get a lot of color added to the character of Su Yi, Nick's grandmother who hitherto had been the serene and regal but ice-hearted matriarch of the Young family. We also get to see the downfall of some of the characters we like the least and the success of those characters we like the most. It's not deep, but it is definitely a rich people ass happy ending to a fun trilogy.
The Top 5 things I learned from this trilogy:
Hermès is gawdy…apparently;
Private jets can have yoga rooms;
If you got it like that, you can buy knock offs and no one will ever question you;
Rich people can do basically anything they want;
Mo money, mo fucking problems…..SIKE! Rich people ain't got no problems fa real.
What I'd like to see from Kevin Kwan next—a story about the ABCs (American Born Chinese) at whom the characters of this trilogy sneer constantly. The vignette we get of Rachel's family at her wedding and holiday season was almost more interesting than all the million dollar shopping sprees we witnessed in the rest of the trilogy…almost.
Also, go see the movie! Because, you may not have known it, but you certainly need this cappuccino with whipped cream and caramel in your life!
Yes hunty, yes.
-Dij